Holland House Curriculum Design
A curriculum design model that works for Holland House Children.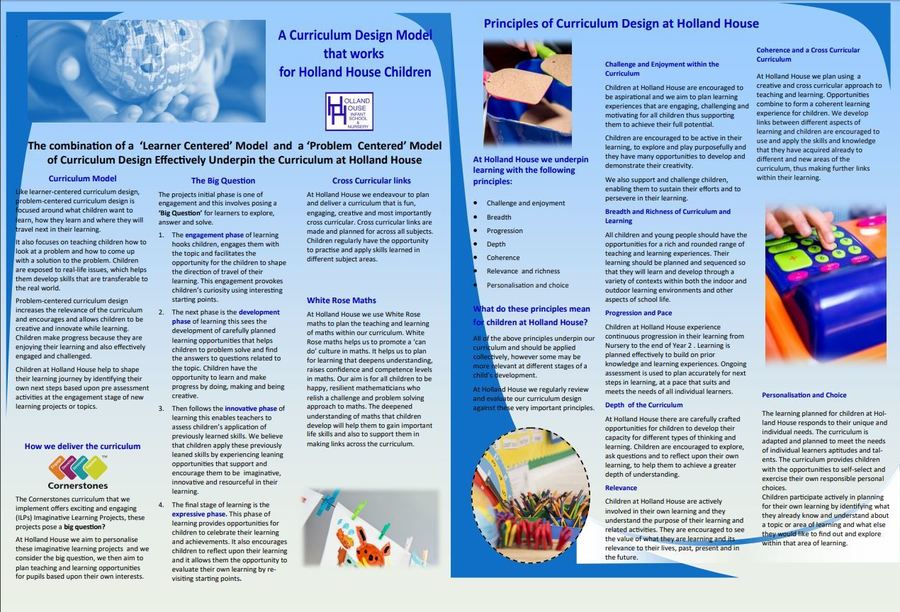 Curriculum Model
Like learner-centered curriculum design, problem-centered curriculum design is focused on what children want to learn, how they learn and where they will travel next in their learning.
It also focuses on teaching children how to look at a problem and how to come up with a solution to the problem. Children are exposed to real-life issues, which helps them develop skills that are transferable to the real world.
Problem-centered curriculum design increases the relevance of the curriculum and encourages and allows children to be creative and innovate while learning. Children make progress because they are enjoying their learning and also effectively engaged and challenged.
Children at Holland House help to shape their learning journey by identifying their own next steps based upon pre-assessment activities at the engagement stage of new learning projects or topics.
How we Deliver the Curriculum
The Cornerstones curriculum that we implement offers exciting and engaging (ILPs) Imaginative Learning Projects, these projects pose a big question? At Holland House, we aim to personalise these imaginative learning projects and we consider the big question, we then aim to plan teaching and learning opportunities for pupils based upon their own interests.
The Big Question
The projects initial phase is one of engagement and this involves posing a 'Big Question' for learners to explore, answer and solve.
The engagement phase of learning hooks children engages them with the topic and facilitates the opportunity for the children to shape the direction of travel of their learning. This engagement provokes children's curiosity using interesting starting points.

The next phase is the development phase of learning this sees the development of carefully planned learning opportunities that helps children to problem solve and find the answers to questions related to the topic. Children have the opportunity to learn and make progress by doing, making and being creative.

Then follows the innovative phase of learning this enables teachers to assess children's application of previously learned skills. We believe that children apply these previously learned skills by experiencing learning opportunities that support and encourage them to be imaginative, innovative and resourceful in their learning.

The final stage of learning is the expressive phase. This phase of learning provides opportunities for children to celebrate their learning and achievements. It also encourages children to reflect upon their learning and it allows them the opportunity to evaluate their own learning by revisiting starting points.
Cross Curricular Links
At Holland House, we endeavour to plan and deliver a curriculum that is fun, engaging, creative and most importantly cross curricular. Cross curricular links are made and planned for across all subjects. Children regularly have the opportunity to practise and apply skills learned in different subject areas.